Artificial Snow Ideas
There are unlimited uses for SNOW TO GO instant snow. Our artificial snow is the most realistic instant snow available. Although our snow does not melt, it looks like natural, real snow, and it is fluffy and cool to the touch, which sets it apart from all other fake snow. Polymer powder developed for commercial purposes, such as indoor Ski or Snowboard parks or for absorbency in an undergarment, do not have the same attributes as SNOW TO GO.
Your inspiration, creativity, and inventiveness will guide how you use our artificial snow in many more ways than we can suggest, but as a jump-start for your imagination, here are some ideas:
Ways to Use Instant SNOW TO GO!
Here are fun things about how SNOW TO GO instant artificial snow has been used:
Holiday Décor
Photography
Floral Displays
Fund Raisers
Wedding Décor
Snow Gifts
Party Fun or Favor
Snow Magic
Birthdays
Events
Souvenir
Novelty


*Make a Centerpiece with SNOW TO GO for your holiday or event table.
What you need to start: SNOW TO GO instant snow and a decorative tray.
Place pillar candles in the center of the tray. Spread the snow you made with SNOW TO GO powder and water around the candles. Choose the color of the candles to match the holiday (red and green candles for Christmas, orange and black candles for Halloween, or red white and blue candles for the 4th of July). You can place theme items like holly leaves, ornaments, miniature characters, mini trees, little pumpkins, or American flags in the snow.
*Color Snow for a holiday or event.
What you need: SNOW TO GO instant snow and food color.
Add food color to the water before you add the instant snow powder. Make the color a few tones darker than the result you are going for (the white snow will lighten the color). You can make orange snow for Halloween, red snow on Valentine's Day, green snow for St Patrick's Day, or red white and blue snow for the 4th of July.
*Snow for Holiday Village, under your holiday tree, in a crystal bowl, as a hanging ornament.
What you need: SNOW TO GO instant snow and the elements of your display.
Make sure to use enough snow in your holiday village or under a tree, so the evaporation process does not cause the instant SNOW TO GO back to powder quickly. We recommend at least half an inch deep of snow for your village and tree inches deep under a tree. You can spray the snow with water when needed, to slow the evaporation process. Water can damage wood surfaces, so make sure that you have a protective covering on wood before you put down your made-up snow.
---
*In a crystal bowl full of SNOW TO GO add colorful ornaments on top of the snow for an end table design or table centerpiece.
*Make a Yule log presentation by finding just the right size birch or pine log, pinecones or flowers, candles, and appropriate baubles ad snow on top and around the sides.
---
*Make Santa's Footprints.
What you need: SNOW TO GO, a cardboard cut-out of a large boot or a large old shoe or boot.
Sprinkle snow around a boot cut-out or old shoe. Then lift it and make another footprint, then another, and as many as you want. Don't be stingy with the snow. The footprints can lead to, and from, your tree - and to, and from, your front door, back door, or fireplace. Remember, the snow is slippery like real snow particularly when it is on a smooth surface like tile and vinyl.
---
*SNOW TO GO as a Stocking Stuffer
Floral Decorating and Design Ideas
What you need: SNOW TO GO instant snow and a vase and flowers or plant.
Start with large round clear globe style vase with a wide opening, fill it about halfway with the SNOW TO GO you made, and then add some additional water (The added water will keep the hydration going for the plant and extend the life of the snow). Then fill the rest the vase the SNOW TO GO without any added hydration. Add a potted Poinsettia or other plants directly into the top of the vase. The result will be an amazing floral presentation.
For a standard clear vase floral presentation, fill a vase halfway up with the SNOW TO GO you made and add extra water to the snow in the vase (The additional water will keep the hydration going for the plant and extend the life of the snow). Then fill the rest of the vase with the snow you made without any added hydration. Add woody-stemmed flowers such as roses. This presentation of roses looks great (We do not recommend using thin stemmed flowers, as the water-absorbing properties of polymer snow will likely have an adverse effect for your presentation). It is always worthwhile to test how the materials you are using work together. Alternatively, to real flowers, you could use artificial flowers in the vase. A snow-filled vase with flowers makes an elegant presentation.
Color SNOW TO GO for a fun addition to your clear vase presentation. Many of our customers use colored snow presentations. Simply add food color to the water, then add the snow powder. The white snow powder will lighten the food color, so remember to color the water darker than what you would like the end result to be.
EVENTS - Weddings, Birthdays, Bar mitzvah, Winter Theme Parties, and More!
The decorating ideas for holiday, craft, and floral designs, as described can be used for all kinds of events. Coordinate your theme or event colors with colored candles or colored snow. Add figurines that reflect something about the celebration, such as skiers or snowboarders in the snow. Add flowers, flags, buildings, or characters that illuminate the theme of the party or event. But there is more:
*At weddings, you can toss made-up SNOW TO GO instead of rice (make sure that the snow is not going to end up on a potentially slippery surface as vinyl, tile, or cement floors).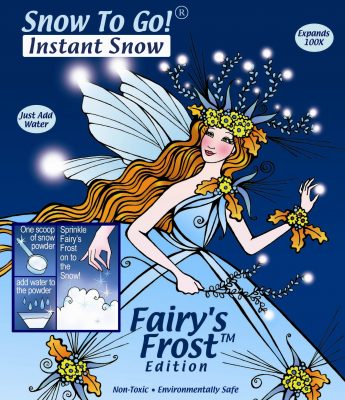 *You can purchase Let it Snow wedding and party favors, which contain SNOW TO GO and can be given to each guest, and even name-dropped with the names of the couple being married or name-dropped for the event.
*To enhance the features of basic event accessories, SNOW TO GO has been used on top of ice in an ice bucket chilling a bottle of wine or champaign.
*Picture SNOW TO GO around an ice sculpture. Cool!
*Add our Fairy's Frost Glitter to SNOW TO GO for a sparkly look of ice crystals in snow decorating.
*SNOW TO GO Poly Packs are excellent fund-raiser items. Demonstrating how to make Instant SNOW TO GO is a big attraction for a fund-raising event, and it sells great. Let your fundraiser visitors see the explosion of snow they can make when water is added and let them experience the soft fluffy cool feeling snow. SNOW TO GO feels cool to the touch after it is made.
*A child's plastic swimming pool full of SNOW TO GO creates a fun party attraction. How about using SNOW TO GO on a Slip and Slide mat? Be careful; the made-up snow is very slippery.
*Use SNOW TO GO liberally all around your event or party. Use it in safe corners, on windowsills, or window boxes, on counters, and in the yard. Put it where it is safe for party goers and safe for your personal effects (Remember the snow is very slippery. Made up SNOW TO GO should not be used directly on fine wood surfaces. Although SNOW TO GO is non-toxic and environmentally safe, it is not to be eaten, and it is a choking hazard for children under four years. Children should always be supervised). See the safety information on this web site for detailed information.
*How about some photography or "Snowtography" - Take fun pictures in the snow. Wear a bathing suit or a coat in the snow. Create your own greeting cards, picturing you or your family in the snow. Take photos of snow scenes that you create with snow. Why not even make your own movie?
---
Magic Tricks with Instant Snow
Like all other endless possibilities for Instant SNOW TO GO, you can develop magic tricks to amaze your friends or audience. The following is an example:
What you need: SNOW TO GO powder in a salt shaker like container with large enough holes for the snow powder to pass through it easily, a clear container (a four-ounce clear plastic cup works great) with enough water in it so the snow powder added will fully absorb and overflow the container when snow is created.
*Performance of the magic trick goes like this:
Make This Statement
"You may have heard the clouds can be 'salted' to make rain."
Point to the clear container with water in it and say,
"Well, I have some rainwater here."
Hold up the saltshaker with the snow powder in it, start shaking the powder into the water and say,
"When I add MY 'special' salt' to the rainwater…" (You might want to add some magic words)
Practice knowing when to stop shaking the snow powder (special salt) into the water and say,
"I can make Snow!"
Your friends or audience will be amazed as instantly your 'special salt' and water become Snow.
---
Email your SNOW TO GO ideas, uses, and experiences. We would love to hear from you. instantsnowtogo@aol.com
We have more years of instant snow design and experience, the largest retail distribution network of anyone in the instant snow business. We are the experts and enjoy sharing our knowledge with our customers and future customers. We have no doubt that the knock-off folks will attempt to co-opt as much of the information we post and claim it as their original. Beware of these imposters who make sweeping claims without offering the best instant snow. They audit our presentations and copy our ideas, but they cannot copy our snow. Some of these folks have even named their products after the wording that we used to describe attributes of SNOW TO GO! ®. We can ask the customer to do what the SNOW TO GO family knows - "beware of impostors, imitators, and wannabes." Thank you for your business.